5 Colorado Hot Spring Pools that will Sooooooothe your Mind, Body and Soul!
There is no better way to relax your mind, body and soul than dipping into a natural hot spring and COLORADO has plenty of them! Check out this list of 5 natural hot spring pools that will take you to paradise!
Strawberry Park Natural Hot Springs
44200 Co Rd 36, Steamboat Springs, CO 80487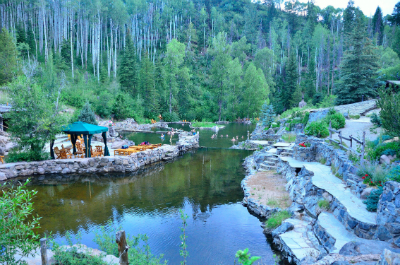 Just outside of Steamboat Springs, nestled alongside Hot Springs Creek, lies one of the most spectacular mineral springs in the world! Imagine relaxing in 104 degree mineral water while Steamboat's famous Champagne Powder gently collects in the surrounding forest!
165 Hot Springs Blvd, Pagosa Springs, CO 81147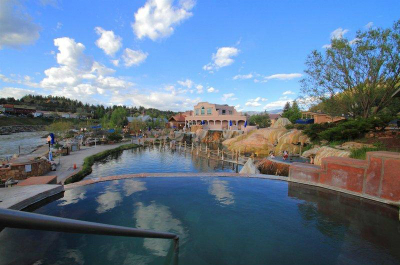 The "Great Pagosa Spring" which feeds mineral water to their 23 soaking pools, won the Guinness World Record title of The World's Deepest Geothermal Hot Spring, on August 20, 2011. The Mother Spring measured at an astounding 1,002 feet deep! However, no one really knows just how deep the hot spring really is. Every time the spring has been measures, the plumb line ran out before reaching the bottom!
8007 Co Rd 887, Gunnison, CO 81230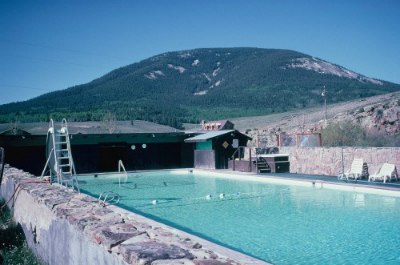 They offer a 35x90 pool, one of the largest private swimming pools in all of Colorado, and it's completely fed by the natural hot springs. This means no matter the outside temperature, we're able to keep it a nice and soothing 95 degrees and an adjacent hot tub is maintained and 100 degrees. After a day of riding, hiking or whatever your activity of choice is, you'll find the hot springs a popular place!
415 E 6th St., Glenwood Springs, CO 81602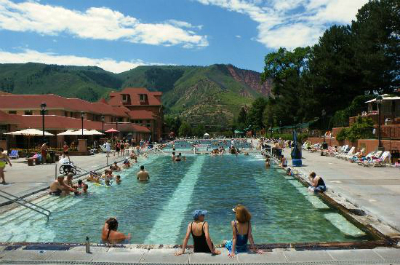 On the grounds of the World's Largest Hot Springs Pool, we offer a 107 room lodge, water slides, mini golf, a premier athletic club and the spectacular new Spa of the Rockies. In the tradition of the West, the complete renovation of the historic sandstone bathhouse is a tribute to the spiritual beauty of this majestic landscape.
1230 Main St. Ouray, CO 81427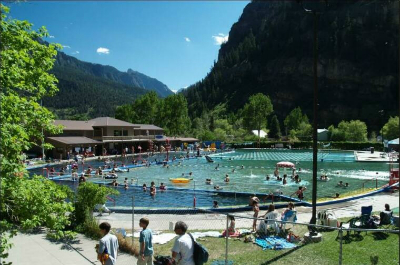 Ouray's public pool contains close to a million gallons of crystal clear natural hot springs water, free from the strong smell of sulfur typical of many hot springs. In addition to several soaking sections at a variety of temperatures ranging from 88 to 106 degrees, the pool has a lap swimming section, a diving area, a large slide, a shallow section for younger children and a game area for water volleyball.